Hector Armor
15ος -11ος π.Χ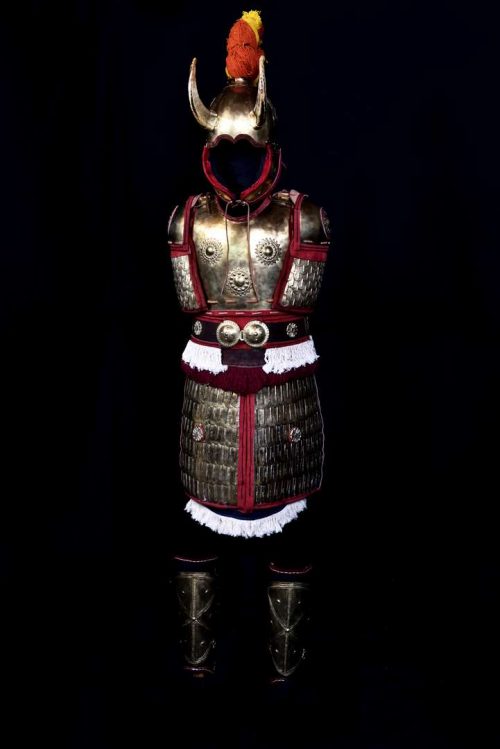 A complete body armor which combines plate and composite scaled protection (13th-12th century BC). It has based to various iconographic, artistic and Archaeological findings from Mainland Greece and Minor Asia. The torso is being consisted by two plates, the frontal and the rear which are being hold together with a fastening system of bronze rings / leather cords (for the armpit areas) and Π shaped receptors for the shoulder locking devices.
The narrow top of four individual rectangular long side surfaces covered with ridged, round end, bronze overlapping scales are strongly attached to the inner side of the low peripheral part of the torso. The connection is achieved with via a thick leather cord which penetrates the two plates in regular distances through numerous fixed round holes all around the rim. From each torso plate are hanged two scaled "curtains" in symmetrical order creating an efficient protection (allowing freedom of moves simultaneously) for the groin and for the legs till the knees level. A thick leather belt keeps the upper parts of the "curtains" tightly together in order to prevent an uncontrolled regression. The belt are decorated with casted decorative rosettes and rich woolen tufts creating an impressive optical stimulation. The buckle is being secured with a Π shape pin.
Two composite pauldrons, part plate style (the curved anatomical element) and part scaled cover the shoulder areas. The scales again are being securely attached to an organic thick substratum made of linen creating a flexible and adjustable surface. To the center of each plate there is a casted margarita like decorative element. The pauldrons are attached to the main torso through a mechanism of rings and leather cords.
The greaves have been made of two bitten bronze sheets shaped in an anatomical way. They are attached to a thick linen padding in order to be able to be worn with safety by the hoplite. Leather durable straps hold them on place, partial they cover the knee area.
The helmet is composite. The dome has been covered by 60 rectangular ridged bronze scales in concentric deployment. For the cheek protection scaled round end "curtains" have been used for another one time. Round-end bronze scales have been attached to a thick leather surface. The inner side of the cheek protection bearing a thick woolen padding enclosed to a leather envelop. Two natural cow horns have been settled to the front top of the helmet with the help of copper bases. To the back side of the dome a long woolen mane is supported by two metal bronze arms creating an imposing result.