Mycenaean Composite Armor
15th – 13th BC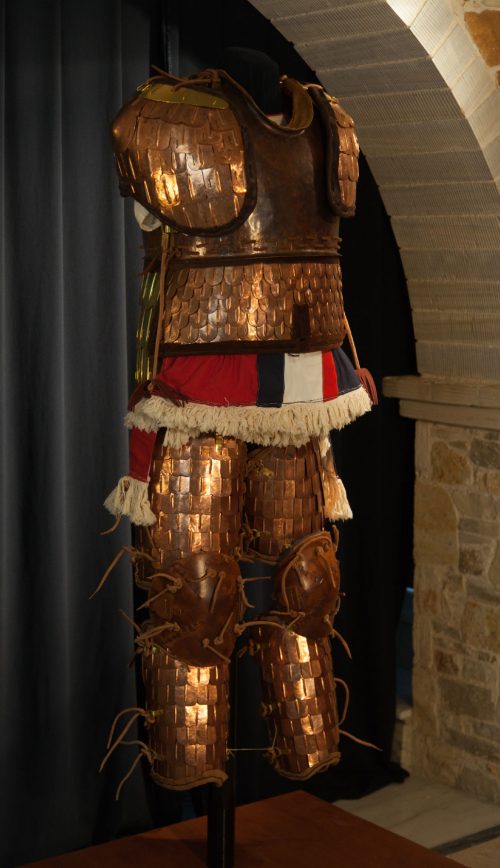 Mycenaean full armor of composite construction (15th – 13th century BC). It consists of two types of sizeable epaulets, the thorax armor and the protection of the lower limbs.
The epaulets are of two types and are selected as appropriate: A) The full metal epaulets, based on archaeological findings exhibited in the Archaeological Museum of Nafplion. They are made of a single piece of bronze with traditional rolling methods. Their characteristic feature is an elongated "hillock" in the middle which somehow copies the anatomy of that part of the upper limbs B) The compound, consisting of a textile substrate on which are suitably affixed tens of copper flakes of rectangular cross-section creating a compact protection. The right epaulet is smaller than the left so as to allow the hoplite greater degree of freedom in the right hand. In both cases the epaulets are retained in the shoulder region with leather cords which are held in special slots on the right and left of the neck.
The trunk is copper and consists of two parts, the front and dorsal. These two parts lock together firmly with pin/socket systems in the area below the armpits and in the area around the neck. The bronze pins bear leather strap as a quick release handle. At the lower end of the trunk portion a short scale curtain is positioned with a partition on its middle. This composite surface is fabric coated with copper scales that have an embossed rib in the middle, and is connected with the bronze plate with cords that pass through holes. The rear part is it too of copper and at its lower edge bears a fabric curtain coated with bronze scales larger and differently shaped than the front. The dorsal scale curtain is wider than the corresponding front because in this case there are no trunk bending problems.
The protection of the lower limbs consists of scale tubular anatomical surfaces that cover the area of the thighs and knees. They are fixed in their position with the help of cords and straps that wrap around the legs. In the region of the knee hollow leather kneecaps are holding the two portions of scale structures (thigh and knee) offering at the same time protection without limiting the degree of mobility required by the joints area. The leg protection system is sustained by the waist of the hoplite with a leather belt and straps while extra hangers (braces) are used for a more efficient support.