Aeschylus Linothorax
5th century BC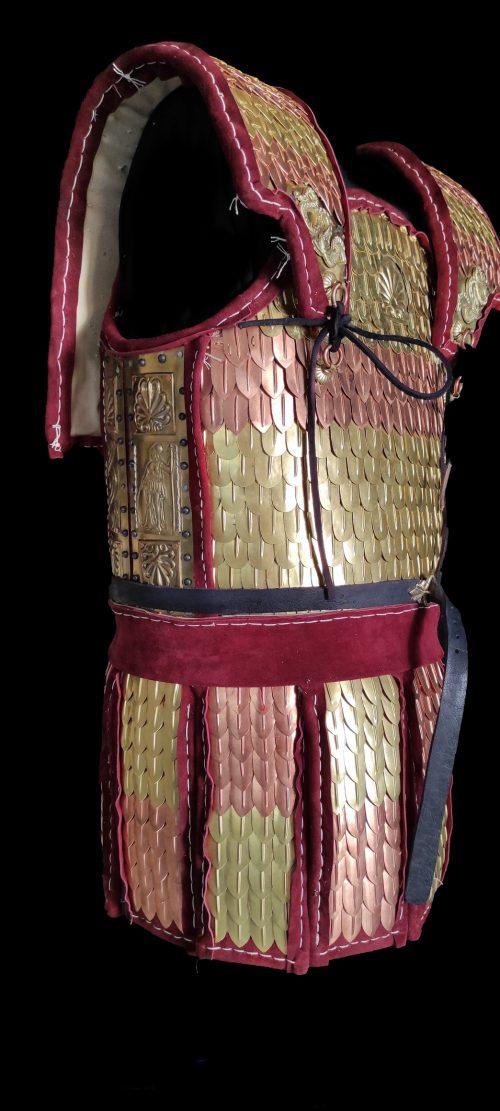 Τhe linen cuirass or linothorax appeared in representative Greek art at least from the beginning of the 6th century BC. Its characteristic shape make it an iconic armor of Ancient Greek warfare. There are numerous paintings of hoplites wearing this type of armor in red figure vases, a fact which reflects its widespread popularity mainly among the Ionians Greeks. The corselet was wrapped around the torso and under the arms of the hoplite fastened with a ring-tie arrangement to the left side.
The beneath luxurious linothorax is being assembled by three separate parts, the "epomides", the main torso and the "pteryges". Around 1,500 ridged copper and bronze scales have been carefully attached to a thick linen background.All the scales overlap each other on creating a snake-like armoured skin.
The armor is secured on the wearer's body through an arrangement consisting of pairs of ring fasteners (with floral ornaments) and leather ties. Four pairs of rings have been attached on the left area under the armpit with two more pairs on the lower breast area.
Decoration elements:
a) A pair of cast marine "Dragons" have been attached to the frontal ends of epomides",
b) a decorative "Anthemion" have been placed on the center of chest area,
c) spiral pattern&flora patterns and the apotropaic figure of Goddess Athena have been attached into the two bronze plaques under the right armpit.
All the edges of the leather elements have been folded with purple leather
and are hand stitched. The inner padding is made of thick woolen panels
layed underneath a linen lining.