Aristotle's Leather Cuirass
4th century B.C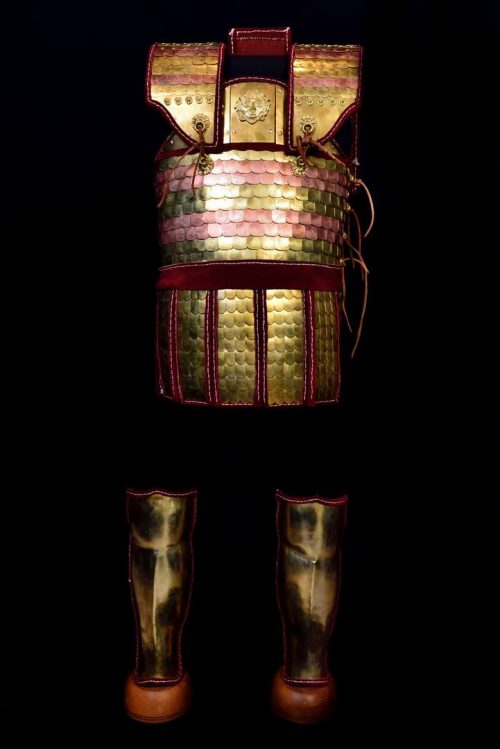 As it is currently accepted, the linen cuirass or linothorax appeared in
representative Greek art from the beginning of the 6th century BC. Its
characteristic shape make it the second more recognizable armour of
Greek warfare after the bell and muscled cuirass. There are numerous
paintings of hoplites wearing this type of armor in red figure vases, a
fact which reflects its widespread popularity amongst the Greeks. The
corselet was wrapped around the torso and under the arms of the hoplite
fastened with a ring-tie arrangement to the left side. However, instead of
linen other organic flexible materials could have been used and,
presumably, the most common of these would have been leather. All
other technical characteristics and the overall architecture would have
been identical to those of the linen armour.
The depicted recreation of 'Aristotle's' leather armour is a fine example
of a one-piece, heavy duty leather thorax dating back to the Greek
classical era (5th century BC) and beyond. The entire surface of the
leather has approximately 1,500 hammered rounded scales in copper and
bronze. These have been carefully attached into three separate leather
sections (the epomides, the main torso and the pteryges). After the
articulation of these three parts the end product behaves like a one-piece
flexible cuirass. The Pteryges, in twelve rows, enable a high level of
freedom of movement for the thighs. The scales overlap each other on
both axes, vertically and horizontally, creating a snake-like armoured
skin.
Three anatomical bronze plaques have been riveted at the front of the
upper chest area. The middle rectangular plaque has been fitted with an
apotropaic, bronze cast Gorgonion head (to ward off evil). The armour is
secured on the wearer's body through an arrangement consisting of pairs
of ring fasteners (with floral ornaments) and leather ties. Four pairs of
rings have been attached on the left area under the armpit with two more
pairs on the lower breast area.
All the edges of the leather elements have been folded with purple leather
and are hand stitched. The inner padding is made of thick woolen panels
layed underneath a silk lining. A pair of open-type bronze greaves protect
the lower part of the legs with pairs of ring fasteners and leather ties
securing the greaves to the legs. Folded purple leather has been stitched
directly onto the metal sheets, with the inner surfaces padded with wool
and silk for better comfort.