Diomedes armor
15th – 12th BC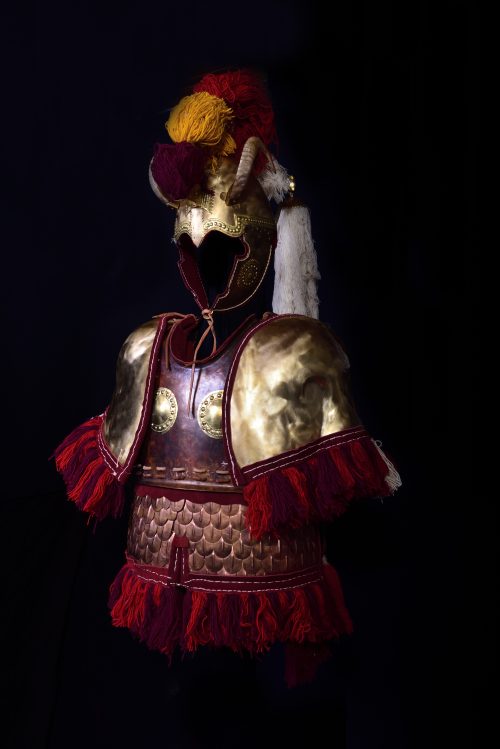 Diomedes (Greek: Διομήδης), the mighty King of Argos, a personal favorite of the Goddess Athena, armored by Hephaestus' hands, the fearless Achaean warrior of Trojan War. In Homer's Iliad Diomedes is regarded alongside Ajax the Great as one of the most skilled warriors among all the Achaeans (lacking in strength only in comparison to semi-god Achilles). Accordingly, Diomedes did not hesitate to attack with his spears and wound even the God of War himself, mighty Ares. Diomedes was the only hero excluding Achilles who received his cuirass from Hephaestus' workshop, a point reflecting his elevated position among the Achaeans.
Diomedes' armor is a composite construction based on various available archaeological art evidence. This exquisite piece of Greek weaponry consists of a pair of sizeable epaulets, the main cuirass and the protection of the lower limbs. Τhe helmet is bronze (open type) with elaborated cheek guards and a heavy decorated top. The decorative elements include four crests with bronze bodies and colorful tufts at their top, a pair of natural horns and a lengthy white tail at the back side. Due to the lack of natural horse hair, woolen tufts have been applied. Additionally, decorative bronze narrow bands have been placed all around the rim of the helmet, held on place with copper rivets. The inner surfaces have been covered with woolen and linen elements in order to ensure comfort and protection for the warrior's head.
The pauldrons ("yala") have been based on Dendra's armor specimens and are formed by two large bronze pieces able to "envelop" the upper cuirass. All around the rims a purple leather stripe has been folded and stitched directly to the metal. Rich woolen decoration has been applied to the lower end of the two pauldrons. They are attached with the cuirass through a system of leather cords and rings enabling a great degree of freedom.
The main cuirass has been made of copper and consists of two separated parts, the frontal and dorsal semi-thorax. These two anatomical parts lock together firmly with pin/socket systems in the area below the armpits and in the area around the neck. The bronze pins bear leather cords (as handles) with woolen tufts at their ends.
At the lower section of the frontal cuirass a short scale curtain is positioned with a partition on its middle. This composite surface retains a thick fabric backing covered with embossed copper scales which offer basic protection for the upper thighs, while they enable easy bending. Respectively, a similar defensive deployment has been placed on the dorsal part; in this case the curtain is covered with lengthy bronze round-edged scales.Decorative colorful woolen tufts stitched at the horizontal borderline of the scale curtains adding an imposing optical effect.