"Echetlaeus" Leather Thorax
Marathon 490 B.C.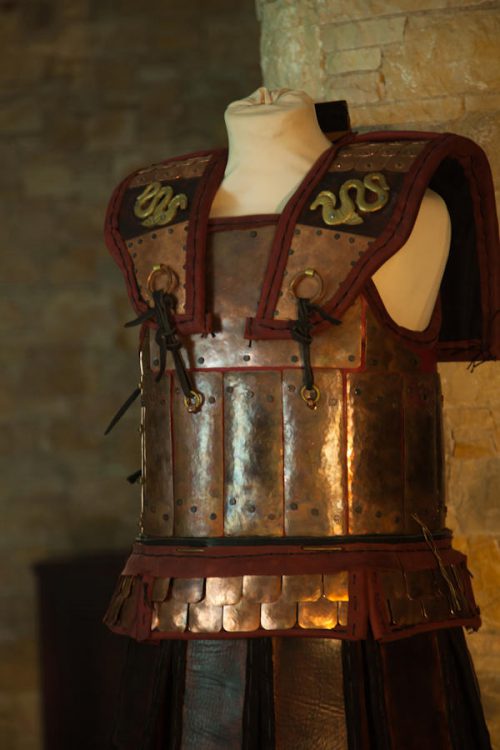 Echetlaeus (Ancient Greek: Ἐχετλαῖος) was an ancient Athenian mythical hero who participated in the Battle of Marathon (490 BC) against the outnumbering invading army of the Persian Empire, commanded by generals Datis and Artaphernes under the orders of the powerful Achaemenid King Darius I.
He appeared suddenly during the pick of the collision between Athenians and Persians, killing numerous opponents with his enormous "echetlon" (English: plowshare) causing the enemy troops to withdraw (Pausanias 1.32.5) before he disappeared. His gigantic physical proportions combined with his decisive actions convinced the Athenians that his appearance constituted a divine saving intervention. After the battle an official worship of Echetlaeus was established in order to honor his contribution to the final victory of Greeks. This mythical hero was depicted in the painting which represented the Battle of Marathon in the Stoa Poikile (Painted Porch), erected during the 5th century BC and located in the Ancient Agora of Athens.
Our Echetlaeus" model is a heavy structured composite body armor. The major difference in comparison with the well-known "Linothorax" typology is the replacement of the usual textile material with a leather one. The "epomides", the main torso and the "pteryges" have been made of waxed thick leather. The back place of "epomides" and part of the front have been covered with rectangular copper scales riveted on place. Two bronze cast Sea Dragons in the lower front of "epomides" add a basic decorative element to the composition. The main torso has been fully covered with fourteen rectangular copper sheets placed in a vertical position and held in place with iron rivets. In the breast area three individual copper plaques have been placed in a symmetrical order (one big in the middle and two minor ones to the left and right).
Thick leather has been used as well for the double layer of "pteryges" offering a basic protection for the thigh /upper leg area. Between the torso and pteryges a narrow four-part scaled belt has been added. The scales are made of copper as well. The fastening mechanism includes six pairs of rings, two pairs on the breast area connected the epomides with the torso and the rest four pairs lying underneath the right armpit.
A very imposing and practical thorax with a strong mysterious earthly character.
The above composition has been based on a work of "Eretrian Painter" (425-400 BC), a skillful Greek Attic red-figure vase painter.The particular red figure vase depicting an hoplite of his era wearing a composite thorax is being displayed at Museo Pomarici Santomaci (Gravina in Puglia).