Hercules quiver
5th century B.C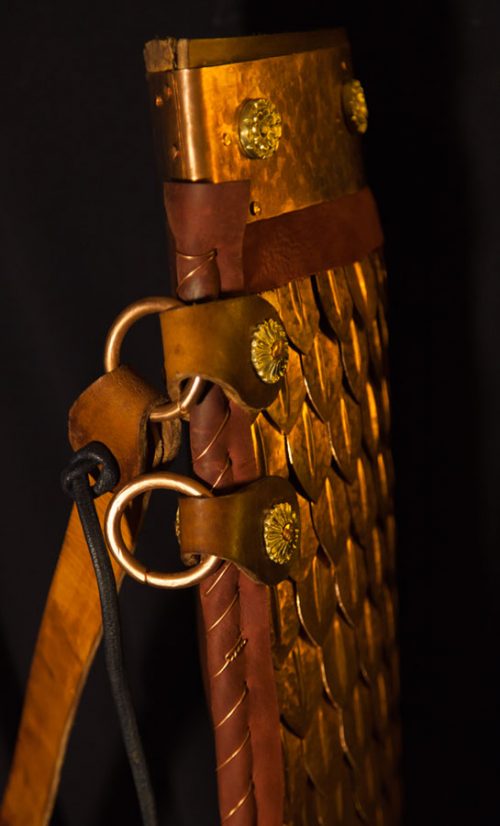 Ancient Greek combat centered around heavily-protected shock infantry which explains why most
ancient art depicts hoplites, but archers are not uncommon. These include Greek gods or demi-gods
(Artemis, Hercules), exotic Scythians from the Black Sea and Amazons, Persians Sparabara infantry
(Herodotus 9.60), Greek light infantry psiloi (Cretans. Thucidides VI 43) etc.
Quivers (φαρέτρα, pharetra in Greek) were an essential item of an archer's equipment, a suspended
oblong case able to accomodate a number of arrows ready to be used against potential targets. These
come in many variations of shape, size, overall appearance and construction material, both organic
(hide, leather, wood, fabric) and metallic (bronze) fitted with ring fasteners and leather suspension
zones. Quivers were suspended either on the back (Greek style) or on the left hip (Eastern style).
Greek black and red figure vase art offers a unique source of quiver depictions and close
examination reveals a lot of interesting details about their structure and function.
The depicted reconstruction has been based on a red figure depiction of Hercules, showing the Hero
with a composite quiver covered with scales suspended from his left side. The main body of the
quiver is constructed with two waxed leather sheets stitched together at the edges, forming a hollow
case. The external surface has been covered with ridged pointed copper scales overlapping on both
the horizontal and vertical axis. Narrow bands with cast floral ornaments have been attached above
and below the scaled area. Three ring fasteners connected with leather bases to the main body have
been fitted to the edge of the longer side. Finally, the quiver is designed to be suspended from the
right shoulder by a thick leather belt, crossing over the chest and behind the back.