Odysseus armor
15th - 11th century B.C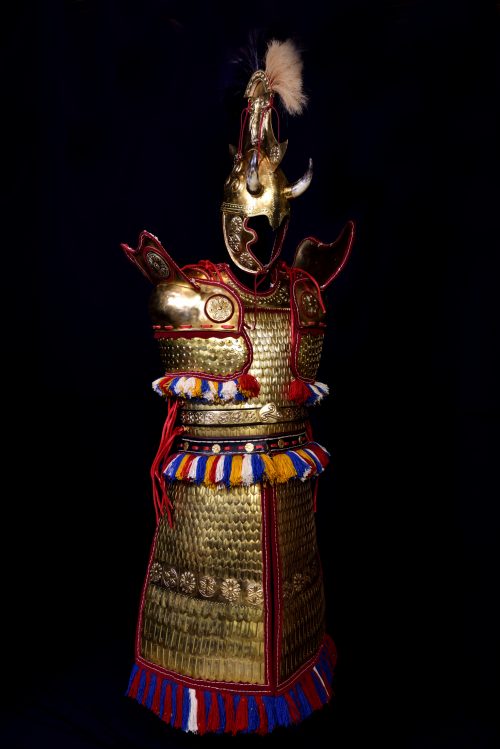 The legendary king Odysseus, the son of Laertes of Ithaca was a one of the central heroes of Iliad and undeniably the main protagonist of Homer's epic poem, the "Odyssey". He obliged to join he Achaean expedition against the Troy leaving behind his beloved wife Penelope and his son Telemachus knowing that he will return back after many years and after numerous memorable adventures. In the Iliad,he was described as a proud&arrogant character, eloquent speaker, a cunning trickster as well as an excelled military commander and with strategic mind. His signature deed was the conception of Trojan Horse, a stratagem which finally gave an end to the long term devastating conflict between Achaean and Trojans ensuring a victory to the Greeks .
Achaeans pretended that evacuating their camp leaving behind an enormous wheeled wooden horse outside the main gate of Troy.Next morning Trojans believed that the Greeks eventually quieted the siege as a result to transfer the wooden "gift to the Gods" into their city celebrating the end of the ten years conflict. During the next night, Odysseus and his companions went out of the hollow belly of the wooden construction and opened the city's gates allowed the Greek army to enter the unsuspecting city. So,even if Achilles was the protagonist of Iliad, the city of Troy eventually fall by a secondary hero, the Odysseus. After that, a long journey starts for the Argonaut king of Ithaca which came to mean a journey of epic proportions, Odysseus and his men sail back to Ionian sea which will last another 10 years. Followed adventurous encounters with Poseidon, Circe, Sirens, Scylla & Charybdis, Calypso, Laestrygonians in order to manage to reunited with his wife Pelenope and son Telemachus, reclaiming his throne.
Inspiration for the making of "Odysseus armor" it was Iliad's ΧΙ rhapsody ( verses 345-346 ) which among others describes the lethal duel between the Trojan hero Sokos and Odysseus.The armor of Odysseus emphasized as "πολυδαίδαλος- polydedalos" actually meaning a very complicated/decorated cuirass carefully handcrafted for a royalty.
"διὰ μὲν ἀσπίδος ἦλθε φαεινῆς ὄβριμον ἔγχος,
καὶ διὰ θώρηκος πολυδαιδάλου ἠρήρειστο"
(Iliad. XI, 436)
The Armor consist a hyper luxurious version of a full scale thorax, combining different artistic features&techiques of Mycenaean military craftsmanship.For this demanding reconstruction various existing archaeological findings were used, dated to Late Bronze Age period (15th-11th century BC) mainly spotted in Mycenaean Grave circle A&B, bronze scales samples from Kanakia Salamina (Greece), contemporary Mycenaean iconography (vase paintings), specific pictorial representations of armors (ideograms of Linear B' from Tiryns,ivory carvings) and generic patterns of widespread decorative art of that period (jewel motifs ).As a total, around 2.500 sole bitten scales of four typologies have been carefully attached to linen background.
The helmet is a composite, adorned with rich decoration elements.It is being consisted of a two-pieces dome, two anatomical hinged cheek guards and one impressive bronze fin-like crest riveted on the middle of the top (specimen found at Pass Lueg, Austria.). Every cheek guard brings flora&star like motifs, copies of Mycenaean jewelry, "triskelion"-like pattern have been fitted left&right of the top (originally depicted on early Aegean seal found inside "Griffin warrior Tomb" at Pylos, the so-called Pylos Combat Agate, engraved gemstone 3.6 cm).
In both side of the fin two decorative pairs of Griffins and one pair of flora motif have been attached, on it's top a detachable wooden crest with natural horse hair has been fitted. A pair of horns placed towards the front of the helmet complete the ornamentation. Wool, leather and linen elements fill the inner metallic surfaces. All the decorative motifs have been shape by thin bronze sheets via traditional "repousse" technique.
The main body of the armor consisted by two largely parts, the frontal and the dorsal. Both components cover not only the torso of the wearer but also the abdomen and the lower legs, almost reaching the area above the ankles (for that reason greaves are absent).Two pairs of scaled trapezoid 'curtains' (two frontal and two shorter dorsal ones) have been attached to a horizontal leather arrangement at the bottom outline of the torso cuirass forming a conical "skirt" around the lower body. These flexible panels are actually suspended with leather cords as an attempt for a maximum flexibility for the warrior during walking and frontal bending ensuring at the same time a high level of protection.
All the external surfaces of the frontal & dorsal parts are entirely covered with 2.800 sole handcrafted bronze scales of four different typologies, smaller scales for the torso and tights and larger ones for the lower part of legs.The outcome is the creation of an astonishing art craftmanship of scales of overlapping arrangement. The scales have been carefully attached to a thick linen backing which supporting the whole structure. In the middle section of the frontal curtains two horizontal rectangle panels with flora and star-like decorative elements have been fitted on place,shaped with "repousse" technique.Similar decoration has applied for the around neck area.Purple leather has been folded (hand- stitching) all around the rims of the linen panels with extra decorative colorful woolen tufts to their bottom ends.
For shoulders protection defense, two large composite curved pauldrons have been designed in order to cover effectively the upper arms as well as to "wrap" around the chest area, always in accordance with the prevailing fashion of the Late Helladic era (see "Dendra" Armor and relevant Linear B' ideograms). More specific, the shoulder guards are partly made of bronze plates and partly of bronze scales. Pauldrons' upper sections consisted by three articulated minor bronze plates, adorned with four pairs of flora ornamentations. The lower section consisted by overlapping rounded end scales suitably attached to an anatomical linen flexible backing. Purple leather cover all the rims of the composition, decorative colourful woolen tufts have been stitched to the lower end of the scaled surfaces.
The fastening system include eight pairs of loops (three under each armpit, one for each shoulder joint) from which thick leather laces holding together the two major parts of the armor. A "triskelion" like buckle with a black leather belt, externally covered with numerous "repousse" Mycenaean ornamentation, wraps around the main scaled torso.
A unique handcrafted creation, able to assemble to one unity the majority of the branches of Mycenaean metal art, combining volume & elegance. A fine specimen of 3.500 year old heavy duty Late Helladic Men fashion.
Conception, design and realization by Dimitrios