Sea People Armor
12th century B.C.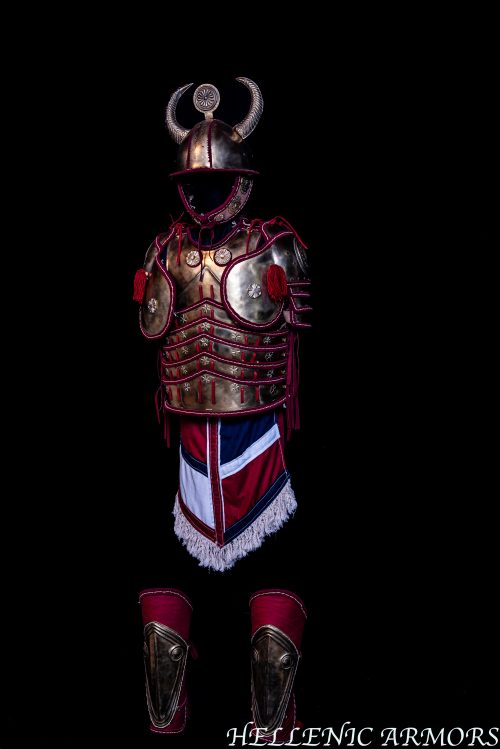 Αfter the collapse of Mycenean City-Kingdoms (Pilos , Mycenae etc) somewhere at the beginning of the 12th century BC , due to civil war between the former Achaean warriors of Trojan war and the current political elites, the coast lines of Near East/Egypt was received an enormous attack. The hordes of these unstoppable pirates are known in history as "Sea People". In reality "Sea People" should be considered as a patchwork of pirates/professional warriors/mercenaries/raiders from all Eastern Mediterranean thirsty for cold and looting. They managed to shape an ephemeral multi Ethnic tactical "army" and with their ships invaded to the prosperous coastal cities of today Syria, Egypt etc. leaving behind destruction and disaster.
The reconstruction was based on the temple reliefs of Ramseum located at Medinet Habu (Egypt). The reliefs depict the battle between Sea People ( Sherden, Peleset ) and the army of Ramesses III.
The armor is composite and have been made of bronze bitten sheets and tanned leather. It is being consisted by two main parts, the frontal and the rear. Each of these parts contains six minor overlapping bronze (inverse V-shaped ) "belts" with leather backing. The "belts" are connected among them with leather laces enabling an efficient freedom of move in the vertical axis. Every rim of the bronze band has been covered with folded leather stitched directly to the metal. The pauldrons retain a distinctive character and anatomy, are oversized in order to surround the torso and are consisted by four parts..increasing the flexibility to a high level . At their frontal surface, cast bronze rosettes have been attached as decorative elements.
The helmet is composite as well, is being consisted by three bronze bands formed in suitable shape and connected among them with rivets. Two natural horns have been placed to its frontal part, in the middle of the dome a circular bronze piece with a vertical bronze stele has been put (most probably symbolizing the Sun). All around the helmet's rim purple leather have been folded. For the cheek protection thick leather surfaces have been added. Thick woolen padding covers the inner space of the helmet.
Τhe greaves are made of oval- shaped bronze sheets, permanently attached to a thick linen backing able to hug the lower part of the legs. Leather straps secure the greaves to their position. The decorative motifs of the external bronze surfaces have been executed with repousse techniques.